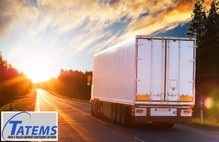 The Santa Monica Seafood Company is a high profile distributer, as it is the largest specialty seafood distributer of fresh and frozen seafood in the U.S. Southwestern region. The company has earned it valid and well-regarded reputation in the industry by making timely deliveries a core commitment. The trucks are also regulated to deliver the contents at the right temperature. Across the region in which it operates the company has about 80 trucks. of which almost 90% are medium duty and of a class 3-8 box style vehicle. The eclectic fleet has an array of models, including Peterbilt, Kenworth and Freightliner models. The 10% of the fleet that is not allocated as medium duty are heavy duty vehicles, including 53 foot tractor-trailer models. A typical service stop includes about 10 cases. Generally routes are considered dense, that is consisting of more than a dozen stops to finish the route. Destinations include hospitals, groceries, military bases and even theme parks. Going forward, a big concern for the company, instituted in 1939 is acquiring up-to-date and relevant technology for its mostly medium-duty trucks, as its been historically the precedent to offer the most cutting edge advantages to the heavier truck models first.
Key Takeaways:
At the top of the heap size-wise, as regards fresh seafood distribution, is Santa Monica Seafood Company, at least so far as the Southwest region is concerned.
The landlocked Southwest loves its seafood, and SMS delivers the goods in a timely manner, packed at the proper cold temperatures.
The SMS food delivery fleet consists of about 80 medium-duty sized trucks and class 3-6 box style vehicles.
"Most trucks drive dense delivery routes (15-35 stops per route) for foodservice customers — restaurants, hotels, grocery stores, hospitals, event venues, casinos, country clubs, military bases, and theme parks (e.g., Disneyland)."
Read more: https://www.truckinginfo.com/10133346/santa-monica-seafood-delivers