The Top Safety Tips For Truck Drivers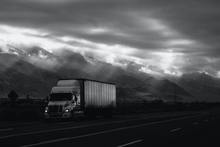 When navigating the roads, it's prudent to expect the unexpected. This advice is especially important for truck drivers to heed. With considerable caution and on-the-road safety tricks, you can ensure that you remain out of harm's way while en route. Whether you're preparing for a trip or traveling to your destination, here are some tips to consider while in the driver's seat.
Pre-Road Safety Hacks
Track The Weather
When bad weather rears its ugly head, driving becomes exponentially more dangerous. According to the Federal Highway Administration, nearly 21 percent of vehicle crashes are weather-related. With that said, it's critical to check the weather both before you're driving and while on the road.
Get Comfortable
There's nothing more bothersome than being uncomfortable in the driver's seat. Fidgeting and constantly adjusting will only distract from what's going on on the road. To keep yourself cozy and attentive, find your sweet spot before the trip begins.
On-The-Road Safety Hacks
Stay Alert
It's all too easy to get distracted while driving. If you feel your concentration waning, take a break. As a result, you'll give yourself the opportunity to refuel. Much like your truck, you don't perform as well when you're running on empty. To avoid an accident, it's crucial to stay alert while behind the wheel.
Stay In Your Lane
Due to their large size, trucks are sensitive to wind, speeding cars, and other unpredictable elements. When these forces are too strong, it can cause you to swerve into the next lane. By keeping both hands on the wheel, you remain in complete control of the vehicle and, in turn, manage to stay in your lane.
Maintain Distance
If you have to come to a screeching halt, you'll need about seven seconds to do so. With that in mind, keep a reasonable distance between you and the car ahead of you. When you do have to come to a stop, you'll find comfort in knowing that you won't plow into the vehicle in front of you.