Utility Encourages Retrofit of 7-inch-deep Underride Guard on Trailers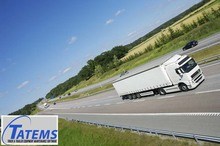 Recent safety recommendation by the federal government states that impact guard mounted on the rear of the truck should be listed as an item to be inspected annually. Utility agrees with this recommendation and strongly encourages commercial operators to consider retrofitting a bumper that is 7 inches in overall depth. This size would be more than sufficient to meet all current and future safety requirements. The company is offering a discount in hope that price reduction would be an incentive for the retrofit.
Key Takeaways:
Utility Trailer Manufacturing announced that its dry vans, refrigerated vans, and flatbeds produced after 2002 can be retrofitted with Utility's standard 7-inch-deep horizontal rear underride guard.
Utility said it strongly recommends replacing any underride guards found defective with its 7-inch-deep horizontal bumper in order to exceed all rear trailer guard safety regulations.
It's often called an "ICC bumper," a holdover from the simple rear horizontal bars first required by the old Interstate Commerce Commission in 1952.
"Utility will discount the new bumpers as an incentive to replace the old underride guards."
Read more: https://www.truckinginfo.com/10135606/utility-implements-standard-7-rear-impact-guard-on-all-trailer-models