Survey: Fleets Check Fuel Economy as Top Truck Purchasing Consideration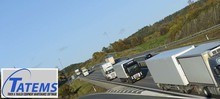 In a recent survey, it was found that a lot of fleets are looking to purchase new trucks in the coming year at a much higher percentage that previous years. Fleets were also surveyed about what is making them feel like they don't want to purchase an electric vehicle. The top reason that they were hesitant to purchase them is because of the cost. The second reason is that there aren't many places where you can go to charge these vehicles.
Key Takeaways:
A survey shoed that fuel economy is a top concern among mid sized trucking companies
It was also learned in the survey that many are planning to buy new trucks this year.
the main reasons that people didn't want electric cars is because of expense, or lack of charging options.
"According to the survey, 50% of carriers plan to buy a new truck in the next year, up from 33% who reported the same in Convoy's November 2020 survey."
Read more: https://www.truckinginfo.com/10138048/survey-fleets-check-fuel-economy-as-top-truck-purchasing-consideration