Southern California Fleet Turns to Volvo to Electrify Operations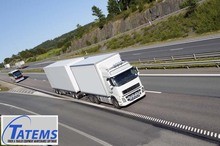 The California truck company known as Dependable Highway Express, is going for a more sustainable future as part of its core mission going forward. To that end, the company has taken big steps to improve its profile vis a vis climate and air quality measures. Part of this initiative has included taking on two new Volvo electric trucks. With the successful inclusion of the two vehicles into the DHS fleet, the company has signed an agreement to take on 10 more such vehicles in 2022. Meanwhile, the company's strong commitment to environmentally friendly energy and sustainability is continuing very much on point. To wit, the company has added Class 8 trucks, batter-electric yard trucks and charging equipment to their infrastructure. The charging equipment services fleet needs and company employee vehicle needs as well. Solar panels and energy storing options have also been added to the company's receiving facility. Much of this lauded move to sustainability falls under the management of the Volvo Lights project. This is a tandem project instituted between Volvo Truck and South Coast Air Management Quality District, as well as a host of like-minded organizations. The goal has been to introduce these electric trucks into the market at scale.
Key Takeaways:
Dependable Highway Express has been turning to sustainability efforts as they've been trying out two new Volvo electric trucks since last September.
The South Californian carrier has plans to purchase ten more Volvo trucks by 2022.
A statement from Volvo claims that their partnership with DHE has been pivotal to the success of the Volvo LIGHTS project.
"Through the Volvo LIGHTS project, DHE introduced Volvo VNR Electric Class 8 trucks, battery-electric yard trucks and forklifts, charging infrastructure for fleet vehicles and employees' personal vehicles, as well as solar panels and onsite energy storage at its shipping and receiving facility in Ontario, California."
Read more: https://www.truckinginfo.com/10134739/southern-california-fleet-turns-to-volvo-to-electrify-its-fleet-operations