Kenworth Adds Front Air Suspension Option for W990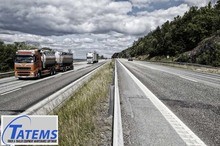 Kenworth is now offering their W990 with an optional Kenworth AG130 front air suspension which will bring this heavy weight titan into a new class capable of supporting 13,200 pounds. The new suspension is special proprietary technology that will allow for faster repairs and a more comfortable drive. This new suspension is available on the T680 and T880 models as well. This is a welcomed move forward for the Classic truck and Kenworth customers should be quite pleased.
Key Takeaways:
As of mid-month January of 2021, the Kenworth Company has optimized its W990 with availability of the AG130 front air suspension option, rated at 13,200 pounds.
The W990 is the Kenworth bread and butter vehicle, it's most classic truck design. The model features 131.5 inches from bumper to back of cab.
Besides gracing the iconic W990 model, the new front air suspension option will also be available in the Kenworth T680 and the Kenworth T880 units.
"Kenworth said in a news release that its proprietary AG130 front air suspension uses an innovative design and high-performance components to provide serviceability while reducing the total cost of maintenance and ownership."
Read more: https://www.truckinginfo.com/10134822/kenworth-adds-ag130-front-air-suspension-option-for-w990-model-trucks