How In-Cab Cameras Help Fleets Improve Safety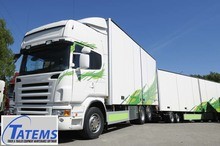 It used to just be that sensors were only rolling once the vehicle was moving and that this was a way to help improve safety of drivers by understanding their driving and stopping speed better. This new technology will record the entire drive, even when the vehicle isn't moving to help gain a better perspective on what needs to change or improve within the truck. The stopping speed and speed on its own are two safety issues that are continuously being improved.
Key Takeaways:
Fleets rely on sensors to ensure braking as well as stopping and speed on all the trucks.
There are some sensors that only work when the truck is moving, these will record the entire trip
One of the benefits of having this is to convert the information into something safer.
"Systems such as the one from Samsara can be considered a "stand-alone," says Ingo Wiegand, director of product management at Samsara."
Read more: https://www.truckinginfo.com/10135529/how-in-cab-cameras-help-fleets-improve-safety