Electric Trucks Conquer Pike's Peak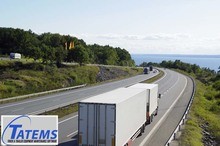 Colorado's famed Pike's Peak, which was named for a military explorer in 1908, is a grueling piece of natural architecture which has been a proving ground for even the staunchest of motor vehicles. With the advent of the emerging automotive industry arrived a need to best one another in proving the to have the best vehicle endurance. A trek up Pike's Peak was the approved venue for such quests to prove vehicle endurance and capability. The long and winding path includes more than a hundred turns. Because of the length, drivers often must expect differences, sometimes amounting to extremes, in weather change, as they mount to greater elevations. This natural test-ground for automotive worth has stood the test of time as the gold standard of how strong a vehicle can claim to be. Of late, two new trucks have endured the challenge to prove that sustainable and zero-emission vehicles are just as capable of rugged terrain as the next truck. The Paccar Company threw its hat into the ring with its Kenworth truck, likewise Peterbilt has put forth its own sustainable model. Both vehicles are victoriously claiming that their sustainable model is the first of its type to make it to the apex of the peak.
Key Takeaways:
An army explorer by the name of Zebulon Pike founded the highest peak in the south part of the Rocky Mountains.
Originally Zebulon named it Zebulon's Mountain but everyone call's it Pike's Peak because it's simple.
To get to the top drivers must make 156 tough turns and drive through tough weather conditions many times even when it starts out sunny.
"A carriage road to the summit of the mountain was the perfect place for manufacturers and drivers alike to showcase their technology, durability and skills on a tough, 12-mile course that begins at 9,390 feet elevation and finishes at 14,115 feet."
Read more: https://www.truckinginfo.com/10134825/electric-trucks-and-hydrogen-fuel-cells-conquer-pikes-peak